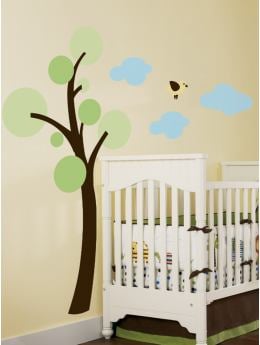 We are still working on getting all the things on the wall in the Nursery. I meant to do it the day before the baby was born but I felt really sick all day so the wall clings aren't up. And the frames for the photos actually didn't get here until after Mark did.

John did most of the work in the nursery. I still can't believe I have a nursery- am I even old enough for that? We replaced the closet with this organizer from Rubbermaid, which we got at Lowes. I really like it- John painted the closet and room to match an Amy Butler print that will be in the bedding I made. Right now Kayleen Perry is quilting the baby quilt that I made. She does really nice machine quilting work. The tree wall vinyl is available at the GAP and the number wall art is from Land of Nod. Mark installed the ceiling light and fan which I love.

What you can't see is the dresser that we stole from our bedroom. We are using it as a changing table and also using a bookcase. I decided that I would make all the baby stuff so he doesn't have very many blankets. Turns out it is easier to make stuff for other people, but I did make the large minky blanket on the glider, and all the blankets in the closet. A while ago I found the quilt and A mat (which is actually a bath mat) at the pottery barn- the quilt was less than 20 dollars. I bought it even though it was for a boy thinking it would be a good present for someone who was having a baby- it was a good idea since two short years later I am the one having the baby. The crib bedding isn't exactly what I would want, but it is made. All of Mark's clothes until he is size 12 months are hung up in the closet. Turns out it really is much more fun to buy clothing for girl babies.